About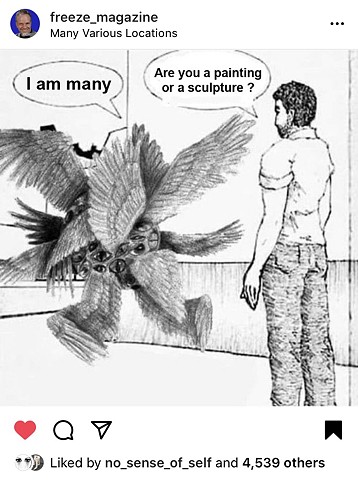 DL is a visual artist whose work is rooted in an interdisciplinary approach to painting's physical form and explores the cross-section of environmentalism, feminism, representation, and the hierarchies inherent to materials and aesthetics. Recent series combine techniques of sewing recycled canvas bringing the notion of repair to paintings traditional identity. Their process uses staining and washing, canvas as fabric/textile/tapestry and the sewn stitch, ceramics and collaborations with nature in tandem with the painterly gesture. Lawrence is primarily interested in the conceptual nature of hybridity and its potential to offer a queer approach to the historical form of painting and dominant narratives.
DL's work has been featured in numerous exhibitions in the Bay Area, Los Angeles, CA and Brooklyn, NY. Notable exhibitions include reflection/materiality at Minnesota Street Projects, San Francisco, CA (2021); A Spirit of Disruption at the Walter and McBean Galleries, San Francisco Art Institute, San Francisco (2021); Veils and Grids at Traywick Contemporary in Berkeley, CA, (2020); About Abstraction: Bay Area Women Painters at the Bedford Gallery at the Lesher Center for the Arts in Walnut Creek, CA (2017); Color As Space, As Sense at [ 2nd floor projects ] San Francisco (2012). Her work is included in a number of important public and private collections, such as the Achenbach Foundation for Graphic Arts at the Legion of Honor, San Francisco, CA, C.H.O.M.P., Monterey Bay, CA, Fidelty Headquarters, Boston, MA, Mills College Art Museum, Oakland, CA and the Triton Museum of Art, Santa Clara, CA.
In 2021, DL was a recipient of a Quick Grant Award from the Center for Cultural Innovation, San Francisco, CA and a California Relief Grant. She was also awarded a fully funded artist in residence at the Sam & Adele Golden Foundation for the Arts in New Berlin, NY and was commissioned to write an article on the Vija Celmin's retrospective entitled Artifacts of Presence: A Common Ungrounding for the San Francisco Museum of Modern Art (2019).
Lawrence received a BFA from the San Francisco Art Institute (2003) and a MFA from Mills College (2011). Lawrence has taught in the Painting Departments at the San Francisco Art Institute and California College of the Arts, the Art & Art History Department at Mills College and the Graduate Department of Education at San Francisco State University.




Read on to see how the work began....
DANIELLE LAWRENCE
in conversation with Glen Helfand
May 11, 2014
There are wonderful contrasts to Danielle Lawrence's work. She's an avowed formalist with an eye to the street. Her works are lustrous and abject, smooth and sharp, blunt and sophisticated. While painting is clearly her passion, she makes promiscuous use of other media: sculpture, drawing, photography and video. The visual energy and brainpower is palpable in her work and in the way she discusses it. What follows is a Sunday conversation we had in her Haight Street apartment, in a city currently full of its own contradictions. We talked about life, art, DayGlo, and rock and roll. —GH


GH: It's good to catch up about your work.
DL: Hi Glen!
GH: Hi! I think it would be interesting to start this by going back to our last conversations and your MFA work. Your painting practice expanded into sculpture and video, but you continue to use the still life tradition. I love that your subject and starting point was trash.
DL: Yes, my subject matter at the time was a very large pile of studio debris. I was investigating notions of identity and was using trash and white trash in particular.
GH: What was so interesting about it was the way that there was a crystalline purity to the exploration, very geometric and formal. Also ambitious in terms of scale—a large pile, large pieces of art. It seems like you were able to use this as a means of generating works that have come since then. Can you talk about that work from the more formal perspective?
What was interesting about working with that material and subject, but also the genres of still life and landscape?
DL: I have always been interested in landscape and identity within that landscape. I was (and still am) using trash as a cultural signifier; a stand in or expression for class—a visual description of place, time and consciousness. I thought it was appropriate that the trash landscape be made in the still life tradition. We are accustomed to associate still life paintings with bounty—a bowl of fruit, a vase of flowers etc. The still life tradition is meant to give the viewer "a slice of life". I was making a contemporary portrayal of this idea—a version that was literally about life standing still. The crystalline quality that you mention was an intriguing potential of the materials I was using—wads of crumpled paper, plastic grocery bags, to-go coffee cups and lids, take out containers, bits of cardboard, string and anything I found lying around. I was able to respond directly to the bleached whiteness of the studio refuse which acted as a blank page waiting for its latent potential to be transformed. I studied the light bouncing off of planes and surfaces and found that the whiteness acted just as a prism or crystal interacts with light. The refraction caused a shift in the perception of the material. In order to capture this experience, I used a combination of hard-edged painting, realism and abstraction to render the giant pile of trash. I worked in this way to allow different levels of perceptual experience of the painted imagery and of the painting's physical surface.
GH: Would you literally paint from life? Or how much improvisation and stylization would occur with that project?
DL: There would be moments of intense realism and then there would be more stylized parts. Some forms were abstracted to be minimal geometric shapes that were painted in a hard-edged manner with a shiny viscous enamel. The high gloss finish highlighted the painting's surface while the realistic illusion of space and other abstracted areas would pull you inward. This push/pull perception was very much how I experienced working with the still life and painting from life. I investigated the still life like I was in a sandbox. Digging around and trying to find the best peaks and valleys.
GH: The final form of that work was peaked as well, a tent-like structure that could get the viewer in the landscape, sticking their nose in it, so to speak. I'm wondering about the decisions it took to get to that, and how freeing it might have been to push things beyond two dimensions. How was it related to the subject, the pile?
DL: At that point I realized that I was also talking about security within that landscape and the A-frame structure referred back to this idea of home and place. So what better way to get that dialogue started then to make a roof or tent-like structure? Even in work 10 years ago, I was exploring ways on how to conflate the 2D and 3D. I would cut out large holes in drawings or collage found objects onto surfaces of paintings. I also really liked the idea of breaking a painting. It was a very freeing experience. The A-frame work purposely borrows the title Doubting Thomas from Mark Tansey's painting and also references Caravaggio's painting entitled The Incredulity of St. Thomas. Tansey's painting depicts a couple's car pulled over on the side of a road. The man has gotten out of the car and is investigating a gaping earthquake fissure in the pavement. Caravaggio's painting is of St. Thomas touching Jesus' wounds after he came back from the dead. St. Thomas was vocal in his disbelief of Jesus' resurrection and the painting depicts him experiencing the proof for him to believe. This event gave rise to the term "Doubting Thomas". Both versions explore the uncertainty that occurs when secure foundations are crumbling. My painting also works within this metaphor. I created a painting with trash strata imagery in the form of a shelter or home to question the notion of what is solid ground or secure and to explore the idea of what once was known to be stable is no longer.
GH: Something I really appreciate about your work is the way you deal with things that are literal, but explore numerous subtexts. This is about painting as much as it is about culture. The car in that Tansey painting is like a Rambler in a Bechtle painting, the religious reference in 'doubting' has meaning to a broad demographic, I'm curious about how you view the platform of painting? Were you using abstraction from a political standpoint—making a commentary on believing in it?
DL: Yes, this is about painting as much as it is about culture. I use painting as a container—a springboard off of a structure that has inherent historical and contextual meaning. I am interested in a formalist approach but I also pull a lot of subject matter from my past experiences. Things I paid attention to in childhood—disparities in wealth, class inequalities, a feminine experience and approach to viewing the world. I grew up in an all female working class home and my mother was a religious nut for a while. All of these things are mixed into my paintings. I am interested in abstraction being inherently political. It shifts normal perceptions and creates experiential potential. I believe this perceptual expansion is powerful and naturally political. I do believe in the platform of painting although I have a much broader vision of what can constitute a painting. Definitions seem to make things small. My work centers itself in shifting or reimagining an imbedded potential of both the subject matter of painting and of the materials I use.
GH: Your recent work is very much about structure, you are skinning the paint off the canvas, though still keeping the stretcher bars around, draping pedestals with shiny, seemingly unruly pours of paint. There's something perverse and wonderful about these. They are abject and formally sophisticated. Can you say something about how you began this body of work?
DL: When I was in grad school at the same time as the oil on canvas works, I was also pouring enamel paint blobs. I would peel them off of their surface after they had dried.
I experimented quite a lot but I hadn't come to a clear resolution for these organic forms.
Back then, I had to make a choice on what I was going to pursue. I was incorporating the enamel paint in the large oil on canvas works but I abandoned the paint pours until a year or so out of school. At that time, I had a small studio and a short amount of time to make work. It was an immediate sort of action where I would go into the studio for a couple of hours and had to make something. So I would build, sand, pour and gather in short intervals of time. This is how the work began. I was still thinking about painting the whole time and this idea of expansion and potential. I bent the frame in the A-frame painting so I wanted to continue this line of investigation. The shapes and the colors in those first oil paintings inspired a lot of the shapes and colors for the sculptural work. This new work examines the notion of the frame as a structure and explores what can exist within and outside of it. Paint becomes a sculptural entity and pushes out beyond its physical supports. Boundaries become blurred and permeable. This process has become a language to investigate the historical parameters of painting, to expand upon its definition, physical context and delve into its evolution as a medium. The works that I make that either sit on the floor or on a pedestal are an exaggerated or elongated version of a painting's stretcher or structure. The work that hangs on the wall is also purposefully chunky. I like to create conversations that live between surface and object.
I was also looking at Besemer and Benglis of course and painters that were taking painting into a 3D dialogue.
GH: They are great artists to reference, particularly as they used the platform of painting, their identities as painters to make political statements. Benglis from the period of peak feminism, Besemer as expressing difference as a queer person in the 90s. How do you see this line of artistic exploration in this moment?
DL: Simply put, I use the frame of painting as a metaphor of patriarchal structure and push back. Which I feel that both those artists do. They use the structure of painting and the materiality of paint itself to address questions about identity and expression within the establishment of the art world and beyond. Both uniquely push up against established norms. Both test the boundaries of abstraction—in sculpture and in painting. I see a direct correlation that is happening again right now where lines of definition between different media and mediums are conflated. The hierarchical sphere is imploding so to speak.
GH: Do you see yourself in dialog with other contemporary painters, your generation and beyond?
DL: Definitely. I look at Ron Nagle, Kathy Butterly, Molly Zuckerman Hartung, Lisa Sanditz, Brett Reichman, Kristin Calabrese, Angela De La Cruz, Katharina Grosse, Jessica Stockholder, Dianna Molzan, Analia Saban, Sarah Cain.
GH: Great roster! Those references lead me to ask about color in your work. The more recent pieces are often more colorful than the previous projects. How do you arrive at the palettes that you've been drawn to?
DL: I was deeply influenced as a kid by my mother's rock and roll records. I use to stare at them for hours—Jefferson Airplane, Pink Floyd, Led Zeppelin, King Crimson, The Rolling Stones, Crosby, Stills, Nash and Young, The Pretenders, The Cars. At a young age, I already had an aesthetic understanding and a psychedelic palette. As I matured and went to music shows, I was definitely impacted by the experience of being transported to an altered state—by the music, the colored lights and the visual culture. Psychedelia is very much about mind expansion or altered consciousness. It is also important to mention that I grew up in the 80s when neon, DayGlo, MTV and pop were very much a part of my everyday world. I am drawn to palettes that resonate with these different eras and have a vibrational weight of their own. The choices I make have a lot to do with how one interprets color—how the color of the surface and structure are experienced.
GH: Raised on DayGlo and rock and roll! The way they meld together over time is an amazing thing. Are you seeing your perspective on that shifting? Where do you see your work going?
DL: More than ever before, I feel that this moment in time is characterized by cultural and social osmosis—everything is melding together. I see my work continuing in this direction—creating compositions out of mixed parts.
GH: Look forward to seeing the new work!
DL: Thanks Glen! See you soon.


Glen Helfand is an independent writer, critic, curator, and educator. His writing has appeared in Artforum and at Artforum.com, and he's contributed to the San Francisco Bay Guardian, Photograph, and many other periodicals and exhibition catalogs. He's a Senior Adjunct professor at California College of the Arts, where he teaches courses on contemporary art. He also teaches in the graduate and undergraduate art programs at Mills College, and at the San Francisco Art Institute where he organized the Visiting Artists and Scholars Lecture Series. He has curated exhibitions for the De Young Museum, San Francisco; the San Jose Museum of Art; the Pasadena Museum of California Art, Pasadena; Rena Bransten Gallery, San Francisco; Dust Gallery, Las Vegas; and the Mills College Art Museum, Oakland. His most recent curatorial projects include Temporary Structures, at the Walter and McBean Galleries, San Francisco Art Institute; Fabricators, a collaboration with Creativity Explored, at Jack Fischer Gallery, San Francisco; and the Proximities series at the Asian Art Museum, San Francisco.